Most Popular Hunts
ID Elk & Mule Deer........Guided $3950, Semiguided $2950
Elk/Deer/Bear/Wolf........Guided $3950, Semiguided $2950
UT Trophy Elk Hunt.......Guided $3950, Semiguided $2950
UT Cow Elk Hunt...........Guided $1950, Semiguided $1250
ID Mule Deer Hunt........Guided $2950, Semiguided $2150
MT Deer Hunt................Guided $4450, Semiguided $3950
UT Ranch Mule Deer...Guided $4450, Private Ranch Hunt
WA Whitetail Hunt.........Guided $2950, Semiguided $1950
ID Shiras Moose...........Guided $3950, Semiguided $1950
WA Merriam's Turkey...Guided $1450, Semiguided $1250
WA Spring/Fall Bear.....Guided $2450, Semiguided $1950
ID Bear Hounds/Bait....Guided $2950, w / Hounds & Baits
ID Cougar (Mt Lion)......Guided $5950, Hounds Dec to Feb
MT Buffalo Hunts..........Hunts starting at $2500 2 year cow
Over-The-Counter Licenses available for most hunts.
Experience an Idaho Elk Hunt, trophy Mule Deer Hunt, highly successful Color Phase Bear Hunt, outstanding Shiras Moose Hunt or an exciting Cougar and Wolf Hunt. Licenses and most tags are purchased over-the-counter with no draw needed. Guided, semi-guided, unguided, or guaranteed hunts with indoor lodging or tent camp. Fish for trout.... Read more >>
Bearpaw Outfitters Montana Hunts have been featured on numerous TV hunting shows. Experience the challenge of spot and stalk Whitetail Deer Hunting or Mule Deer Hunting or plan a Buffalo Hunt for a great beasts of the plains. These hunts are on exceptional private ranch hunting leases in Montana, shot opportunity has been 100% for 11 years.... Read more >>
Bearpaw Outfitter's offer world class Utah Trophy Elk Hunts and trophy Mule Deer Hunting for some of the best fair chase trophies in the world. Utah also has excellent Shiras Moose Hunting and hound hunts for Cougar (Mountain Lion) Hunting. There's great upland bird hunting for huns, pheasant, chuckar, dove, and five species of grouse.... Read more >>
Hunt with Bearpaw Outfitters for Northwestern Whitetail Deer, color phase Black Bear, beautiful Merriam's Turkey, big bull Elk, Mule Deer, trophy class Shiras Moose, and predators including Cougar, Coyote, and Varmints on private ranch hunting leases and public land mountain hotspots. Fish for trout and walleye in local waters.... Read more >>
Several good hunting areas are marked on each Do-It-Yourself Hunting Map. This saves you thousands of dollars in fuel and years of wasted hunting trips trying to find a good hunting area.... Read more >>
Why Hunt with Bearpaw
EXPERIENCE: Bearpaw Outfitters are family run, full-time, licensed hunting guides and outfitters in business since 1977. Bearpaw Outfitters have survived the test of time with an A+ Rating at the Better Business Bureau. Hunters from around the world have hunted with Bearpaw Outfitters and numerous TV News and Hunting Shows have featured Bearpaw hunts.
AREAS AND SUCCESS: Bearpaw Outfitters hunt the best public land hot spots and lease thousands of acres of quality private ranch hunting lands. Each hunt area has advantages regarding terrain, game numbers, and trophy quality. Best of all, shot opportunity averages from 70% to 100% on most hunts nearly every year.
PERSONAL SERVICE: Regardless of your physical ability or prior hunting experience Bearpaw Outfitters can provide the right hunt and accommodations and will work hard to provide the best experience possible. Dale, Tara, Brian, and the staff enjoy visiting, swapping stories, and getting to know each hunter. Please read the Testimonials from past hunters.
Contact Bearpaw Today
Call Dale or Tara (509) 684-6294 to ask questions or book a hunt. Use the Hunt Application when sending a deposit. Sign up for the Wild Update Newsletter to receive updated hunting info and reminders of licensing deadlines. "We look forward to meeting and hunting with you soon."
Best Regards,
Dale, Tara, & The Staff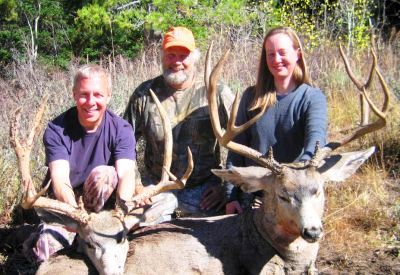 Guide Ray Doppenberg, Mike and Kris' Idaho Mule Deer Hunt