Idaho Cougar Hunting
Idaho is a top cougar hunting destination. Bearpaw Outfitters offer guaranteed cougar hunts in their southern and northern Idaho hunt areas. Bearpaw Outfitters have been outfitting and guiding mountain lion hunts for more than 40 years, they've caught hundreds of cougar including the former P&Y World Record Cougar. Cougar hunting is not just a winter sideline, it's serious business at Bearpaw Outfitters.
Two cougar hunts are offered, the 5-Day hunt is more affordable, the 7-Day hunt offers more time to be selective.
Guaranteed Cougar Hunts
5-Day Cougar Hunt $4950
7-Day Cougar Hunt $5950
5-Day Non-hunter .... $750
7-Day Non-hunter .... $950
(The Guarantee: Return for half price if no shot opportunity or passed cats)
License and Tag is purchased Over-The-Counter
Northern Idaho $206.50
Southern Idaho $340.75
Why Choose Bearpaw Outfitters
An important factor to consider when choosing a Mt. Lion outfitter is what cat you will be told to shoot. Bearpaw Outfitters will not tell you what you have to shoot. Bearpaw Outfitters can usually estimate the sex and weight within 10 or 15 pounds by looking at the tracks or looking at the animal. When tracks are found Bearpaw Outfitters will tell you what the cat is and it's your decision if you want to chase the cat or use the time to look for a better cat to chase. When a cat is treed it's your choice to shoot the cat or leave it and look for a bigger cat.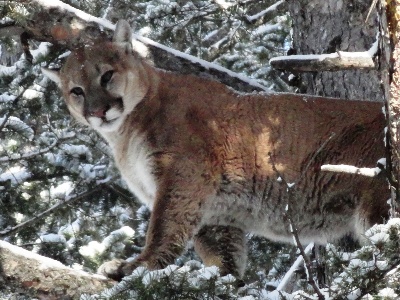 Hunt Areas & Terrain
The Northern Idaho cougar hunting areas managed by Brian Denney are 3000' to 6000' elevation with more than 350 square miles of prime cougar hunting. The southern Idaho cougar hunting areas managed by Dale Denney are 5000' to 8000' elevation with more than 700 square miles of prime cougar hunting territory. Idaho is very mountanous but the guides will go at a pace hunters can handle, many hunters with limited physical abilities have been successful.
Seasons, Licenses, & Hunter Ed
Cougar hunting seasons run November 1 to March 31. The best hunting usually occurs when there is fresh snow from late November through early February. The License and Cougar Tag are available over the counter for $340.75 and can be purchased when you arrive. Hunter Education is required if born after Jan 1, 1975.
Trophy Quality
Cougar are also known as Mountain Lions, the toms usually weigh from 120 to 150 pounds or more and females usually weigh 80 to 100 pounds. Hides usually measure from 7 to 9 feet in length. Bearpaw Outfitters have taken dozens of record book sized cougar. The largest cougar taken by Bearpaw Outfitters scaled 205 pounds, measured over 9 1/2 feet long and was the P&Y world record for several years.
Hunting Methods
The most successful cougar hunting method is to travel mountain roads with a 4x4 truck, ATV, or snowmobile watching for fresh cougar tracks. The guides may also hike into remote areas looking for cougar tracks if needed. Once a good set of fresh tracks is located the dogs are released and the chase is on. Because the hounds can cover so much country, you will wait until the cat is bayed or treed, then Bearpaw Outfitters will try to get you as close as possible before hiking in.
Shot Opportunity & Additional Game
Shot opportunity averages 80% to 90% most years but there have been many years with 100% success. Most shots range from 10 to 50 yards. Ask Dale about adding coyote, wolf, and bobcat to your hunt. Local waters also offer excellent trout fishing and your hunting license includes 3 days of fishing.
Guiding, Lodging, Meals
The Cougar hunts are guided 1x1. Lodging and meals are included at our remodeled farm house in southern Idaho or the manufactured home in northern Idaho or you can also choose to stay at a motel in town if preferred. Any motels and restaurants are your expense.
Travel & Itinerary
Drive to the hunting location or fly into Salt Lake City for southern Idaho or fly into Spokane, WA for northern Idaho, then get a rental car or ride an Uber or airport shuttle, it's only a 2 or 3 hour drive to meet Bearpaw Outfitters at either of our locations. Arrive the evening before your hunt begins. Plan to hunt the duration of the hunt if needed and depart the day after after your hunt ends.
Trophy Care
After you harvest your Mt Lion, your guide will skin the cat and remove any meat you might want which is actually very good eating or we'll donate the meat if you don't want any. Bearpaw Outfitters can deliver your trophy to a skilled taxidermist or you can take it home to your preferred taxidermist.
To take your hide/meat home on a plane, go to the local Wal-Mart or grocery store and buy a 24 to 48 quart cooler, a roll of wide shipping tape, and a black marker. After Fish & Game seals your hide it can be frozen overnight, then tape the cooler closed and write your address and phone number on it with the marker.
What's Not Included
Your personal gear, sleeping bag, meat processing and/or shipping, taxidermy, licenses, 6% state sales tax, motel, restaurants, gratuities to guides, and any other items not listed as being included.
Contact Us Today
Call or Email with any questions or to book a hunt. If sending a deposit by postal mail, use the Hunt Application to verify your details. "We look forward to meeting you and hunting with you soon."
Best Regards,
Dale, Tara, and The Staff