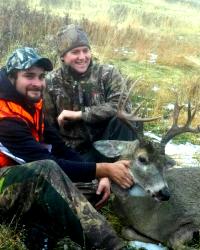 Washington Whitetail
12/31/2017 - Absolutely amazing people! Daniel is an exceptional guide and tagged out the whole party with gorgeous bucks. Tera had us all feeling right at home with her hospitality and delicious cooking as well. Loved the cabins and beautiful county, look forward to coming back!
Jered Kropholler, Oregon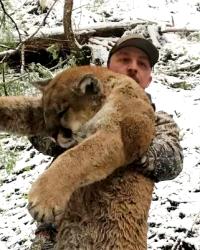 Idaho Cougar Hunt
12/06/2017 - Just finished a lion hunt in Idaho. We had an absolute blast with Dale, Brian, Anthony, Daniel, and Ruby. These guys are awesome and know what it takes to get Lions. Needless to say, we will be back. Thanks Guys
Greg, Scott, and Chuck, Oregon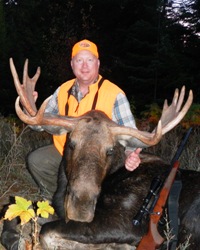 Washington Moose
11/3/2017 - Hi Dale, Just wanted to send a quick message to say thank you for the guidance. It definitely paid off. Only took 4 days, saw bulls everyday even with the weather being above average. I've attached a couple photos. Was going for double eye guard on both sides, but close enough, huh? He came in right at 40 inches. Thanks again and maybe I'll be looking to do a bear hunt with you in the near future.
Ben Snodgrass, Oregon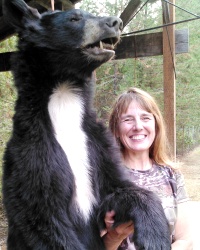 Washington Bear Hunt
9/3/2017 - Hi Dale, Again, thanks for the great hunt! That photo shoot (haha) was special and above and beyond. My kids loved the pics. Thank You,
Klara Higgins, Washington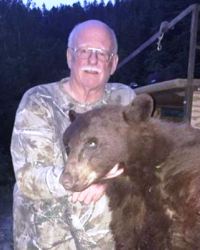 Idaho Bear Hunt
06/23/2017 - Hi Dale, Just got back from the hunt. We both got bears and had a great time. We will do that hunt again in the future. We ran one bear with the dogs and that made the trip. Thank you.
Steve Belknap, Washington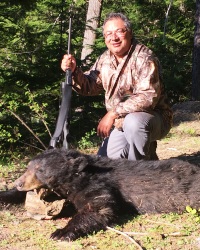 Idaho Bear Hunt
5/28/2017 - I had a really great time. Thanks for everything. Brian did great.
Mike Martel, Texas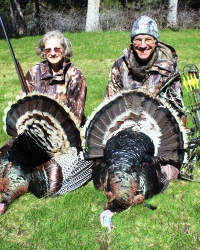 Washington Turkey Hunt
5/6/2017 - Thanks Dale. We had a wonderful time! Look forward to seeing you next year, if not before.
David & Lolly Victor, Washington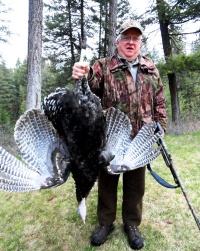 Washington Turkey Hunt
4/27/2017 - Thanks Dale & Tara and Daniel, I really enjoyed myself and the food was the best, Thanks Again, Your Friend
Mike Thompson, Washington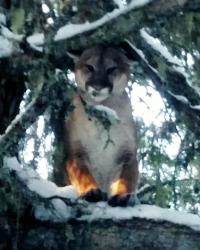 Idaho Cougar Hunt
02/01/2017 - Brian, Thanks again for a great hunt. Keep me in the loop for other hunt opportunities.
Chris Epping, Washington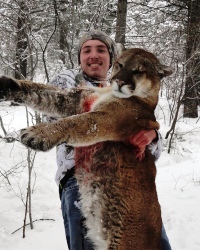 Idaho Cougar Hunt
Hi Brian, Thank you so much for the awesome cougar hunt, we loved it. We watch the video all the time. Thanks!
Blake Fleischman, Wisconsin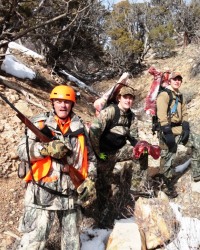 Utah Elk Hunt
Dale, Just wanted to send you a note of thanks for all of you and Daniel's efforts on my hunt. Anyway once again thanks for another great outing and please let me know application dates and deadlines for Idaho and Utah.
Jim DeGraw, California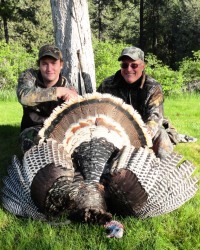 Washington Turkey Hunt
Tara thank you for all of the good food. Also the cabin was clean and nice. I think you, Dale, and family run a first class outfitter operation. I would like to come back next year. Thanks
Alex Moody, Washington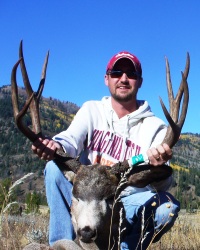 Idaho Mule Deer
Dale, Just wanted to let you know how much I enjoyed my trip to Idaho this October with you guys. The lodge was great I felt bad that I was living better on a hunting trip than I do at home. The guides were great and the deer I harvested more than exceed my expectations it grossed 163. I hope that I can make it back to Idaho in the next couple years to do a lion hunt with Brian that sounds like a blast. We will see you guys maybe in Montana on a pronghorn hunt, you truly have a 1st class operation. Thanks Again,
Josh Buchanan, Virginia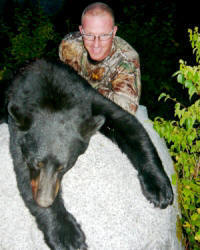 Washington Black Bear
Hi Dale, First I would like to thank you for a great experience. It was a very good experience to hunt with you. I am very pleased about my black bear. I was hunting with you from the 1st of September to the 4th this year 2010. You run a very professional hunting agency. On the 4 days of hunting we saw 11 different bears. On the 3rd day I sadly missed a shot to a good bear – but my guide soon found me a new one. So on the 4th day I shoot a good black bear. I can only give the best recommendations for BearPaw, especially the 2 professional guides Anthony and Brian. Moreover hunting farm really nice place. I hope soon to return and hunt with you. Best Wishes,
Lars Buchard, Denmark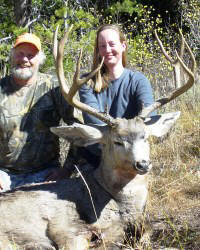 Idaho Mule Deer
Dear Dale, Thanks for a great 2010 Mule Deer hunt. When we booked this hunt we had expectations of getting out into some beautiful country, learning more about Mule deer hunting, seeing multiple deer, and maybe fill our tags. When we arrived we found the accommodations and the food outstanding. Our guide, Ray, was knowledgeable and humorous,  we saw bucks and does everyday, and the countryside was everything we had hoped for. My husband got a nice 25" buck on the third day. I had never harvested a game animal, but I gained confidence all week and on the last day I tagged the biggest buck of that weeks hunt. The trip exceeded all of our expectations. We are looking forward to a combination Elk/Mule deer hunt with BearPaw Outfitters next year. Sincerely,
Kris and Mike Baker, Washington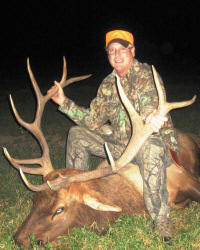 Utah Elk Hunt
Hi Dale: The hunt was the most exciting and fun hunt I have ever been on. We did ground sitting, spot and stalk and stand hunting. Everybody was great especially Kim, who went above and beyond to get me a nice elk. We started in a stand and saw lots of elk, but only one that might be considered a shooter. It had real pretty white tips, but Kim said this was not a first day bull. Went back out that night and had 100 + elk in field but no shot. The second morning we walked in by the corn field to ground sit. We had elk bulging not 80 yards from us but the wind was wrong and we could hear them running. We sat a while and then moved to where you see me in the picture. From there we watched 4 bulls come from the corn and cross about 90 yards from us. One was a nice 6 X 6 but had a broken rack. That night we sat by the corn in a stand and saw small bulls and a few cows. Saw tons of ducks going in the corn (exciting). The third morning, because there was only one other hunter, we did a spot and stalk. Got out there before shooting light and the elk were bulging about 100 yards from us. We knew the one we wanted, not by sight, but sound. At the end of his bugle, he sounded like a bear growling. They were going to cover early, but we crawled within 80 yards of the "hoss", but could not get shot due to the terrain before he went to cover (a heart pounder). Later that morning we tried to intersect three more bulls. Got to them just as they went into the reeds and could only see the tops of their racks. That night (3rd night) we went back to a stand that Kim thought would be good based on the elk pattern. Sure enough, here they came, over 100 of them with probably 30 bulls. Kim found what he thought was the best (he has a great eye for that). It is a game of chance which way they would feed, and it was in our favor that night. Most of the elk were going away from us, but about 4 bulls seem to be headed our way. My bull started at about 380 yards and when he got to 293 yards I shot him. I did Bearpaw outfitters proud, as I did not miss. He didn't go down, so Kim handed me another shell, and I about reamed out my chamber trying to get it in, as I was shaking so bad. Hit him the second time, and it looked like he was going down but wanted to shoot a third time so he would not suffer. I had to let Kim put the third shell in my gun! Thanks so much.
Bill Ross, Tennessee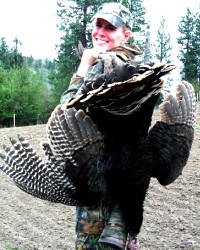 Washington Turkey Hunt
Hi Dale, Chip and I had a great time, Anthony was a great guide and we look forward to hunting for turkeys next spring. (hopefully sooner) Sincerely,
Deanne and Chip Emmons, Washington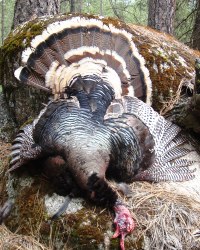 Washington Turkey
Dale, Had a great time with you guys.  I really appreciate your getting Ryan his bird Sunday morning.  Hope all is going well for the rest of your guys. Attached are a few pics of my bird. You guys run a first class ship there, hope to return and see you guys soon. By the way my taxidermist thought that was the best thing since sliced bread the way you guys helped us pack those birds. They got back without a blemish. Thanks again!
Greg Muffler, Illinois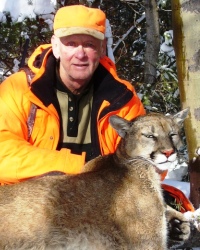 Idaho Cougar
Dale and Brian, I cant thank you enough for the experience of a lifetime. Not only was my hunt successful but it was made that way not only by harvesting a large cougar but also by the professional and fun company. While I kidded Brian I am now going to back off a whisker and tell anybody who cares to contact me that BearPaw is the way to go. I say this after hunting with four other guided trips. Your equipment is exceptional as is your competence. Again thank you,
Dan Bergeron, Wisconsin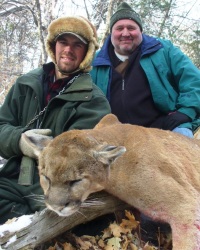 Idaho Cougar
Dale, Thanks again for a tremendous hunt. The mountain lion was really a trophy animal echoed by both the fish and game department in Idaho and the taxidermist here in Oregon. Thank you also for your personal touch; not only for supporting me as the only hunter, but also for your encouragement and dedication in getting to and from the kill sight. Your support was clearly above and beyond that which could be expected by any hunter. You will hear from Rick and I in the future when we are able to plan our next hunt. With Great Respect and Tremendous Thanks,
Dick Gerding, Oregon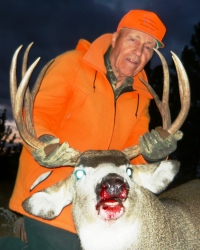 Montana Mule Deer
Hi Dale, Was thinking back on our Montana hunts with you and realized I hadn't followed up with word on what a great time we had. We really enjoyed hunting with you and Anthony. Again, thanks for the enjoyable time in Montana. Happy Hunting,
Jeff Barnickol, California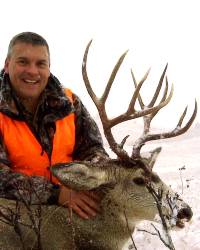 Deer, Elk, Bear, Bison, Turkey
Dale, What an incredible hunt in Montana! We now have 6 hunts together: 3 bears, a Whitetail buck with a bow, 2 Merriam turkeys, a cow elk, and  now a Mule Deer and a Buffalo. I never would have made a 400+ yard without you telling me where to put the cross-hairs. Wind and snow is something that you cannot practice very well at a shooting range, and that is one of the few reasons I like hunting with Bear Paw Outfitters. You have always put me on animals early in the hunt and coached me through the experience. You have to remain calm, and having someone watch and talk you through the shot really helps. To now get a trophy mule deer is another chapter, and dream that I wanted to fulfill. To feel like I have developed a friendship out of our experiences is even nicer. The buffalo is a fun meat hunt. Their size is absolutely incredible. To think that I shot a 750 - 800 lb cow was incredible. It looked so small compared to the bulls. It was not until I got up next to it that is struck me how impressive an animal it was. Thank you again for taking care of me. We always have a lot of laughs and I look forward to seeing you every chance I can. I am now thinking about all those antelope on the 87,000 acre ranch in Montana. I don't have an antelope yet and with all the trophy bucks there, it just makes sense to do that next. Wishing you and Tara Happy Holidays, and a fantastic rest of the hunting season.
John Hutchison, California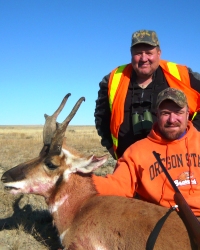 Montana Antelope
Dale, Rick and I had a wonderful antelope hunt with you in Montana and our guide, Anthony, was great. I am getting ready to head to southern Idaho for our cougar hunt. I plan on arriving there on the 29th of November for our 1-7 December hunt. Looking forward to another great hunt with you.
Dick & Rick Gerding, Oregon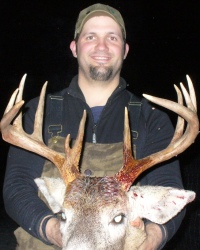 Washington Whitetail
I just wanted to say thanks again for the great trip this weekend. Me and Chris had a great time. You have a first class operation. I look forward to spending more time with your crew. I am already making plans on booking a hunt with my Dad for next year. I hope the rest of your year is safe and successful. Thanks again for a hunt of a lifetime.
John Davis, Washington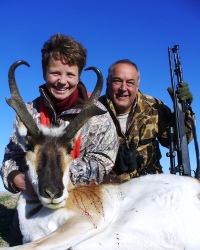 Montana Antelope
Just wanted to let you know I thought you were awesome! You definitely knew how to do the "sneak", and I'm glad you did. We picked up our meat the next morning and were on our way. There was quite a bit of time to discuss the hunt, and if I get some time I'll put together a quick story - a story of the novice hunter! When I say novice, I mean novice - as if you couldn't tell! We had our first meal on Tuesday night - I cannot believe how good the meat was! From what I had heard from many people on how bad the meat can be, I was so ready to bottle it. I won't be bottling any of this meat - I've never had any wild meat taste the way this did (not just because I'm biased, either)! It's better than any venison, moose, elk I've ever tasted. Very happy, we both were! Thanks again for your guided hunt. If it weren't for your expertise, I'm positive I would not have good memories of my antelope hunt (whether I was able to shoot one, or not).
Denise & Kelly McDonald, Idaho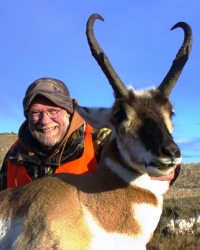 Montana Antelope
Dale, It was a privilege to hunt antelope in Montana with you and Anthony. I had a great time! There were hundreds of pronghorns to see and it was fun learning how to judge their size and hunt them. I am also impressed with how important it was for you to tailor the hunts, for all of us in camp, to match our abilities. This was a perfect hunt to introduce me to what it takes to hunt out west. With so many animals on the ranch it was possible to put multiple stalks on them each day. The antelope soon educate you on their tremendous eyesight and skill of putting distance between themselves and hunters. Dale, you really helped me to make that 325 yard shot on my antelope when you called out the crosshair placement; especially with that stiff crosswind. After we stalked that herd twice and finally got over them, took the time to glass and evaluate each of the 3 or 4 bucks, belly crawled to a perfect spot to shoot from, made sure I had a round in the chamber and waited for other antelope to clear away from my buck; that shot call helped me focus on getting it done. As exciting as all of that was, what made the trip special for me was all of the little experiences we had before and after the kill. I enjoyed checking out the other critters we saw - mule deer, coyotes, porcupines, prairie dogs, and eagles to name a few. Finding the remains of an old wooden wagon abandoned on the side of a hill was a surprise. You and I had an interesting night watching a dart match back in town one night. The fact that you stopped and took the time to let me experience it all showed me that as an outfitter, you get it. These little things make a hunting trip unique. I'm looking forward to receiving any video and pictures you can send me. I'd be honored to be a reference for you to other hunters and please feel free to provide them with my contact info. Guys, thanks again for helping me take a beautiful antelope and letting me spend some time with both of you. I hope to share another adventure soon.
Steve Brandle, Michigan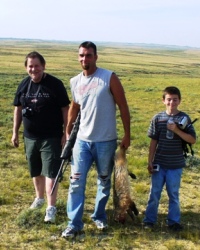 Montana Prairie Dogs
Dale, What a good time, my grandson & son in-law are still excited about the hunt. Your patience and tutelage of my grandson means so much. With your help he (we) learned a lot about wind age and elevation and shooting in general. You even let him use your rifle! What a hunt, this was my fourth hunt with Bearpaw Outfitters, each was excellent. I can't wait until my cougar hunt in December. Thanks Dale you outdid yourself this time. See you in December if not before!
Bob Baker, Washington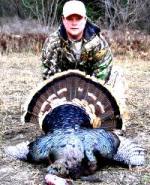 Merriam's Turkey Hunt
I just wanted to thank you again for an incredible hunt and time in camp with your family and staff on my first ever Merriam's hunt. It was two of the best turkey hunts I have ever experienced and was a great feeling tagging out on both birds by 6 am of the second day !! Not only was the scenery of eastern Washington a great memory, but even more amazing was the amount of land available to hunt and the number of birds and wildlife that I saw. Anthony and Brian were both great guides and guys to hunt and spend time with. Not only were they very enjoyable to be around, but I was even more impressed by their hunting and guiding experience dealing with not only turkeys, but big bear and mountain lion hunts as well. It truly can't get much better than this. Rest assured I will be coming back again for more hunts in the future and look forward to more stories, memories and good times. Take Care and God Bless,
Brady Hamilton, Mississippi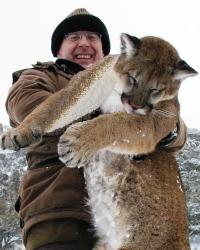 Idaho Cougar Hunt
Thank you Dale for a great hunt. Coming all the way from Denmark, without knowing anything about cougars, you and your team did a great job to help me out. By now I feel that I know these elusive animals way better. The first couple of days were stressful as we did not have any new snow or any tracks, but when that snowstorm came in the middle of the week, things turned around. It was great to see the dogs go up that mountain, barking, when we released them. But even more thrilling to meet them again some hours later by the tree. A great walk and a great moment to remember. I appreciate your efforts, the hard work from the guides and those amazing dogs. Thanks, Dale.
Per Kaufman, Denmark
Washington Turkey Hunt
Hi Dale, I just wanted to thank you and Tara for another great spring Turkey hunt. I have Turkey hunted with Dale and the crew for the last thirteen seasons. They are a first class outfitter and have become good friends. I highly recommend them, you will not be disappointed with the experience.
Les Crossfield, Washington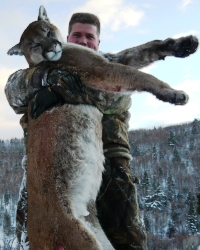 Idaho Cougar Hunt
Hi Dale -- thanks for the pictures. Spectacular! This is the best word to describe my recent Idaho cougar hunt with the talented, professional and expert hunters of Bear Paw Outfitters! Dale, Brian and Anthony are among the best in the business. Climbing those mountains to hunt down that lion was a personal feat I will never forget. The hunt was all the more special because each of these men were seriously committed to my success. Looking forward to the next hunt...Moose!
Michael G, Missouri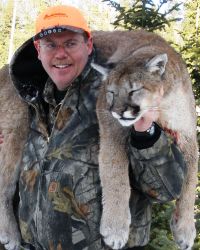 Idaho Cougar Hunt
Dale, I would like to thank you and your crew for a great hunting experience. It was truly a hunt of a lifetime. Your guides are very knowledgeable and dedicated. They worked hard to assist me in harvesting my first cougar. I can't wait to get it mounted. The State of Idaho was breathtaking and it was a thrill to see the Moose and Mule Deer while hunting. I'm looking forward to booking a hunt for Mule Deer in the future. Thanks again!
Mark G, Missouri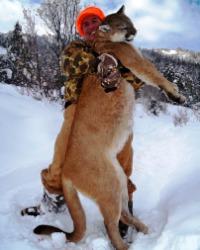 Idaho Cougar Hunt
Dear Dale: I would like to thank you for a great hunt. Brian and Anthony worked very hard for me and produced a great 8ft 6 in. Mt. Lion Your people were professional, and always gave me 100% effort. I would recommend you as an outfitter to anyone without hesitation. I hope to hunt with you again in the future. I'm attaching a picture of my lion for your records.
Sal Briguglio
Contact
Call Dale or Tara or send Email to ask questions or book a hunt. Use the Hunt Application when sending a deposit to confirm hunt details and license information. Sign up for the Wild Update Newsletter to receive updated hunt info and license deadline reminders. "Dale, Tara, and the Crew look forward to meeting you and hunting with you soon."
Office (509) 684-6294
Dale Cell (208) 852-6494
Bearpaw Outfitters, 345 Hwy 20E #A, Colville WA 99114